J-1 Visa International Summer Employment
The J-1 Visa Visitor Exchange Program provides you with the opportunity to spend your school break living and working with us on the Outer Banks of North Carolina. Connect with people from across the globe, create lifelong memories and be immersed in an English-speaking environment. You'll also gain valuable leadership, presentation and customer service skills.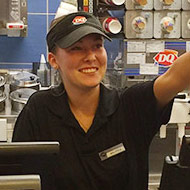 Krisztina
Well let me start by telling you that on my first day I made so many mistakes, I thought I would be fired. The management was very patient with me and soon I was able to learn the correct way to make the DQ products. The experience that I had this summer changed my way of thinking about working. I thought that it would be boring when actually it was fun. I don't regret that I ended up here. The most wonderful thing was my manager. She was like a second mom to me. I hope I will have a chance to come back here and work with these people again, because it was the best work experience ever.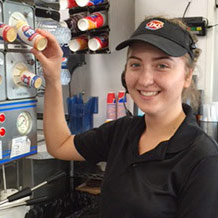 Diana
Romania
Hi there! My name is Diana and I am from Romania. When I decided to come to USA, I told myself, "This would be the best experience," and it was! Working at Dairy Queen - Kill Devil Hills, literally changed my life. I learned a lot of new things about America, about other cultures and about myself. Here I discovered new skills, I improved my English and I found an "away from home" family, which I'll never forget. Being away from home was hard at first, but managers and co-workers were patient, nice and always ready to help. This made me want to be as good as possible and to work harder. And, I did. I tried my best and now I feel honored that I worked here with such wonderful people. I definitely want to come back next summer! Now I look back and I see a nice store with delicious ice cream and warm people. I smile and say, "You can order when you're ready." By the way, "Thank you for choosing Dairy Queen. My name is Diana. How can I help you?"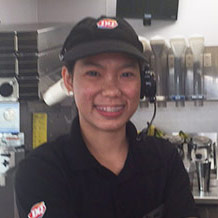 Adrielle Nicole Q. Canson
Philippines
Hi, my name is Adrielle Nicole Q. Canson from Davao City, Philippines. Allow me to share with you my first job experience at Dairy Queen OBX. When I was in my 1st and 2nd years of college, I really wanted to earn some money to buy clothes and some other things for myself. But when I reached my 3rd year and after I worked at DQ, my outlook on life changed and I started to feel more grown up. Working in the United States, specifically at Dairy Queen, taught me a lot of things. It taught me about the value of time, how to value the customers, how to be responsible, how to handle my finances, and lastly it taught me how to get along well with my co-workers, especially those who are a different nationality. During my first month working at Dairy Queen Kill Devil Hills, I thought three months was going to be enough. But as time went by, I was having at work, as well as with my co-workers. This made me feel like I was home and I realized that three months was not going to be nearly enough. Working at DQ will surely be a big part of me maturing and I am looking forward to the day when I can apply what I have learned. "Hi - thank you for choosing Dairy Queen. Order when you're ready please. Here you go. Enjoy! Have a great night.".... Oh how I am nostalgic remembering these lines that I used to say. I hope that I will be able to say these again soon.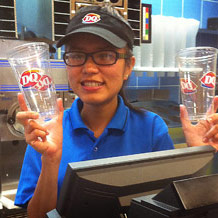 Tyn Nguyen
Vietnam
"I want a vanilla ice cream put in a cup with rainbow sprinkles." This sentence spoken by little Nicky has stuck in my mind from my very first day of work at Dairy Queen. My name is Tyn Nguyen and I am from Vietnam. There are many more wonderful things that have happened to me this summer. I have had a good time here at Dairy Queen with my dear coworkers and together we have built a team full of joy and love. If you are looking for a job, do not hesitate to join our Dairy Queen family. We are here to have fun and to be surprised. "Today I just want vanilla ice cream put in a cup with a spoon and that is it."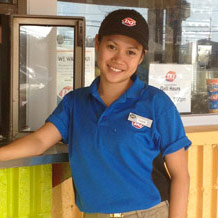 Yanie
Philippines
"Hi! Welcome to Dairy Queen, Yanie at your service, how may I help you?" Hi my dear brothers and sisters, welcome to the world of opportunity. As you read this you've just opened the door to that great opportunity that you've been looking for.
There are only two ways to live your life. One is as though nothing is a miracle. The other is as though everything is a miracle. Spending my 2012 summer at Dairy Queen of the Outer Banks is a MIRACLE, a blessing from Almighty God, because not all the people around the globe have a chance to work and experience life as an American. It's one of the most miraculous blessings that I've ever had in my 25 years of existence.
My name is Yanie Eslabon, a Hotel and Restaurant Management student from the Philippines, and I would like to thank Dairy Queen of the Outer Banks for the opportunity to work and share my skills. It was a wonderful experience, and even made me sure of my plan to pursue my career in the hospitality field. All throughout the duration of my work, I was able to learn a lot of things, such as dealing with different kinds of customers of different nationalities, making a lot of Blizzards, and improving my managerial skills, as it helped boost my confidence level in speaking English clearly. Working at Dairy Queen gave me the break to showcase my hidden talents that I never expected to already have. Dairy Queen taught me on how to deal with conflicts in a professional way.
All in all, my work experience at Dairy Queen of the Outer Banks this summer of 2012 is incomparable. I truly appreciate the confidence and trust given by the company to me.
On behalf of my classmates from the Philippines who had been part of the Dairy Queen family, I would like to thank the management and staff of Dairy Queen of the Outer Banks for being part of our journey.
To all the students around the world who want to be part of the company, please read this... Keep on dreaming and never give up, because in our life there are a lot of challenges that we will encounter and these challenges are sometimes almost impossible to handle. Most people just give up and quit easily, not knowing that each and every one of us has the ability to solve any problem that we will encounter because we are born with a unique gift, given by our heavenly father, which is wisdom. All we have to do is discover it, and let us not forget to trust and pray to Him. Being strong in those times that we were at the lowest part of our lives is one way to discover that wisdom.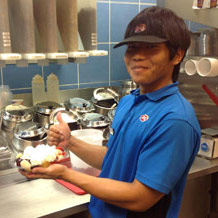 Ice
Thailand
"My best summer ever" might not be much of an exaggeration for me to say. Deciding to work with a DQ family this summer helped fulfill all my curiosity about what is in the United States.
Hi there!!!! I'm ICE from Thailand. I was an ordinary person who thought that working is boring, but after working at Dairy Queen for three months, I find there are many things that I have gained from working here. New friendships, management skills, and living the American lifestyle are all new things that I have experienced here. I really have fun working here. One thing that always makes me glad whenever I think of my job is the smile of customers who enjoy their ice cream that I make. It may take me forever to tell what I have been through as a part of the DQ family.
Do not miss a great opportunity that you will never forget. Come and fulfill your curiosities like I did, and I promise you will really have a good time here.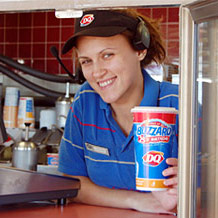 Sandra
Macedonia
Hi, my name is Sandra. I'm from Macedonia. I came to the states looking for a job where I could work and have fun while meeting new people and learning new skills. Thankfully, I was hired by Dairy Queen where they provided transportation and housing for me. They have very nice houses for students that have common luxuries including unlimited wireless Internet, cable, washer/dryer access, air conditioning and all utilities as well as being located just a short walk to the beach. I have decided to stay longer in the Outer Banks and Dairy Queen has helped me to get accepted and attend the local college here. I couldn't ask for a better job or better coworkers. I love Dairy Queen. I love my job.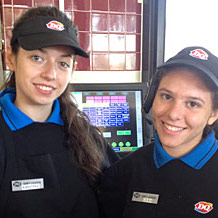 Kristina and Lilka
Bulgaria
"Welcome to Dairy Queen! What can I get for you today?" This is the golden phrase of our 2012 USA summer. This is how we, Kristina and Lilka, greet our customers on the Drive Thru speaker.
When we left our home and families in Bulgaria, we never imagined our stay in KDH to be what it actually is. For four months, we have been living on a three-minute walk from the most beautiful beach on the Eastern Coast. Our house has two floors and all the accommodations someone could ask for. The best thing about it are its location (at the back of the DQ store, so we just need like 30 seconds to go there, no matter the weather) and the two large kitchens where everyone can cook and spend time together - one of the most important aspects of our stay.
But the house remains the second best place to make friends. Number 1 is the Dairy Queen store. As soon as we became familiar with all the duties as employees, we started feeling ourselves as some kind of ice cream masters, because we prepare gorgeous-looking treats in seconds and every day we receive so many kids' smiles when we give them their small vanilla cone with rainbow sprinkles! We surprise people when we turn the Blizzards upside down and we laugh a lot while taking orders on our favorite Drive Thru.
Even on our days off, we cannot help it but come again to the store - just to see what our friends are doing. We are now a great team - each one of us is a very good worker, but together we make this store alive. The heart and the soul of our DQ are the Nuzzi family - Nick, Carol, Sidney, Rose and all the students that work here. Thank you all for teaching us and taking care of us, for your love, help and support. You really changed our lives and made of our stay in the USA one of the best and most memorable times ever! We love you, we miss you all and we cannot wait to see you again next summer!!!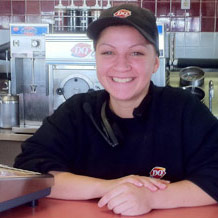 Bilyanna
Bulgaria
My name is Bilyanna and I spent the best summer at Dairy Queen. I met so many nice and friendly people. I feel it is already a part of me, just like my home, Bulgaria. Dairy Queen changed my life and I am thankful that I became a part of its best team! From the bottom of my heart, thank you for all of the help and for all of the good moments.
About the Job
Overrun I, LLC operates several restaurants located on the Outer Banks of North Carolina. The restaurants primarily serve ice cream and ice cream products. Employees are expected to serve customers by dispensing ice cream and other items. In most cases, the restaurants do not have "sit down" areas with servers. Business is usually conducted through windows or across counter areas. Job functions include preparation of the ice cream, working with ice cream mixing equipment, cleaning the work area, making change and operating cash registers and similar functions. The hours of work vary for each employee. Most J-1 visa exchange student employees will work evenings and some days. Employees will get one full day off per week. The facilities are modern and comfortable for workers and completely air-conditioned.
We also offer meals to employees at our Dairy Queen store at 50% off the normal price. These meals are available throughout the summer, however only when the employee is on duty.
---
About the Housing
Rent cost will be $13.50 daily, and will be deducted from employee's paycheck. Each employee will have a private bed, and rooms will be shared by four employees. The houses have bathrooms, a common kitchen, and a living room area, all which are shared by residents in the house. The houses are air-conditioned, have a television and computer, which are in the main living area shared among the residents. Houses are also furnished with, telephone, dishware, linens, internet, and laundry facilities for which the residents will be responsible.
Employees will not be allowed to entertain visitors or guests at the residence. Group parties or gatherings at the residence will not be permitted, except among the residents of the house.
If complaints are received about the actions of employees, the management reserves the right to terminate employment and/or housing.
Employees will be required to pay a security deposit in the amount of $250. The deposit will be paid upon arrival. The security deposit will be returned to the employee at the conclusion of the employment, subject to the following:
If the employee or employee's guests damage the residence, the cost to repair the damage will be deducted from the deposit. Damages will include the cost of cleaning if the premises are left in unsatisfactory condition. Overrun I, LLC will not tolerate abuse to the premises.
The employee will forfeit the security deposit upon the occurance of conditions stated in the lease agreement.
Overrun I, LLC reserves the right to inspect the residence without notice. However, the employee's privacy will be respected. Inspections will be performed on a weekly basis, and an evaluation will be documented.
Employees who elect to live in housing provided by Overrun I, pursuant to the lease agreement, will be considered tenants under a weekly leasehold agreement.
Employees will be required to occupy the residence in a responsible manner, so as to avoid unnecessary expenses for electricity, water service and other utilities.
Smoking will not be allowed in the residence or on the job.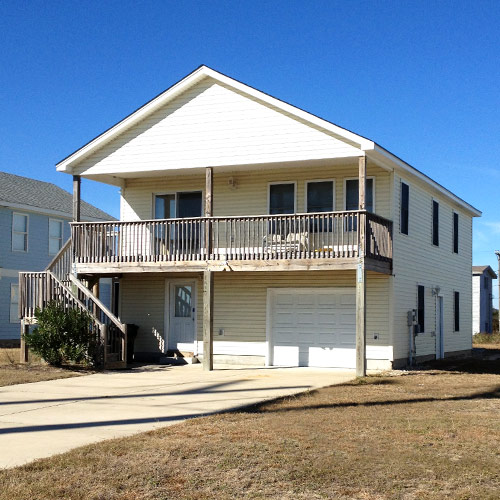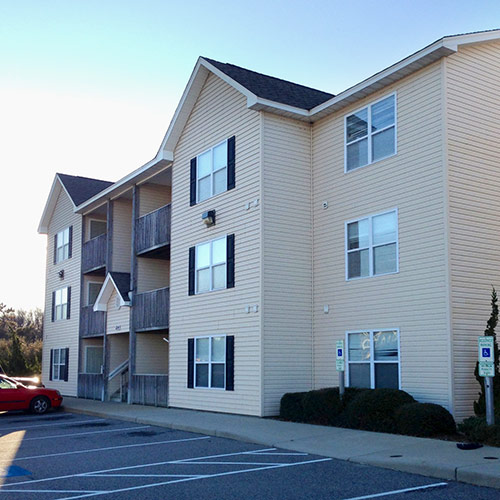 ---
Transportation
Below are the options available to bring you to Norfolk or to Newport News, Virginia or Elizabeth City, North Carolina upon your arrival into the United States.
Amtrak Rail service is available from New York to Newport News, Virginia.
Bus service is available from New York to Norfolk, Virginia or to Elizabeth City, North Carolina.
Airline service is available to Norfolk, Virginia.
When you arrive at either city above you will have to arrange transportation to Shutters On The Banks Hotel, 405 S.Virginia Dare Trail, Kill Devil Hills, NC.